Water Dispersible Fertilizer in Tomato Transplant Production - Research: Cornell University. 2017
Objectives
Experiment 1 (Suståne 12-0-1 Hi-N Water Dispersible Fertilizer)
The objective is to compare performance of tomato transplants fertilized with a once weekly drench in response to Sustane WDF 12-0-1 as compared to another organic alternative nitrogen source, 14-0-0 soluble protein hydrolysate (Ferti Nitro Plus), and a conventional alternative nitrogen source (calcium nitrate, 15.5-0-0). In addition, we wish to determine if 12-0-1 application leads to greater nitrogen use efficiency, i.e. if a lower application rate can be used (150 ppm N vs. 200 ppm N).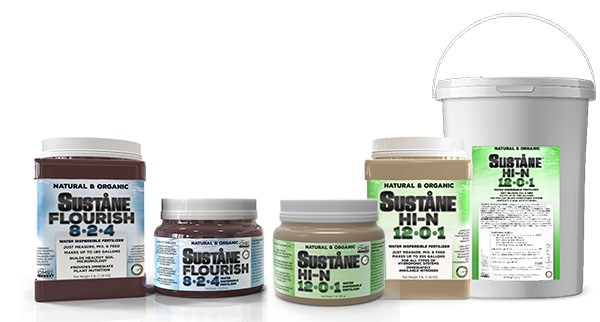 Experiment 2 (Suståne 8-2-4 Flourish Water Dispersible Fertilizer))
The objective is to compare the performance of Sustane 8-2-4 WDF to other complete liquid organic fertilizers (Nature's Source 3-1-1, Drammatic ONE 4-4-1) and a conventional fertilizer (Jack's 21-5-20).


Find out how they differed in the research paper linked below.